Supplier Registration
Never miss out on any project requirements ever again. When Stockpile receives a requirement, we filter them to match your products, and send the request straight to you so that you don't have to waste valuable time and resources anymore.
Start by navigating to the
Supplier Registration
page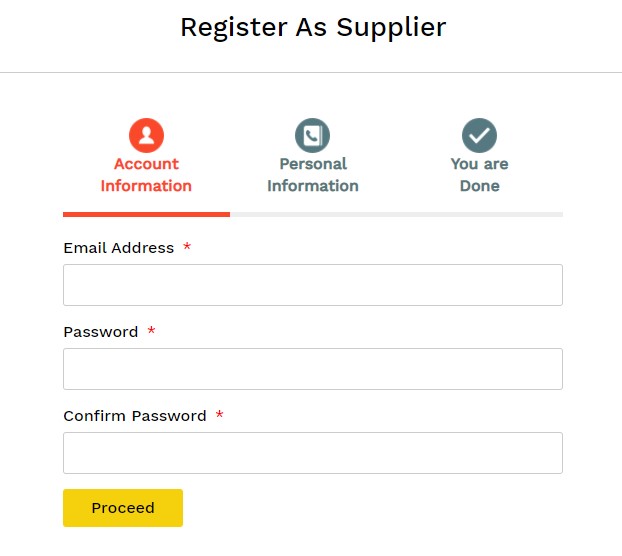 EMAIL ADDRESS
Enter your official company email address. This will be used for all notifications about your account, orders, RFQs and newsletters.
PASSWORD
Your password must have a minimum length of 8, and must contain 3 of the following 4:
Lower Case letter
Upper Case letter
Digit
Special Character
Click on Proceed to continue to the 2nd Page.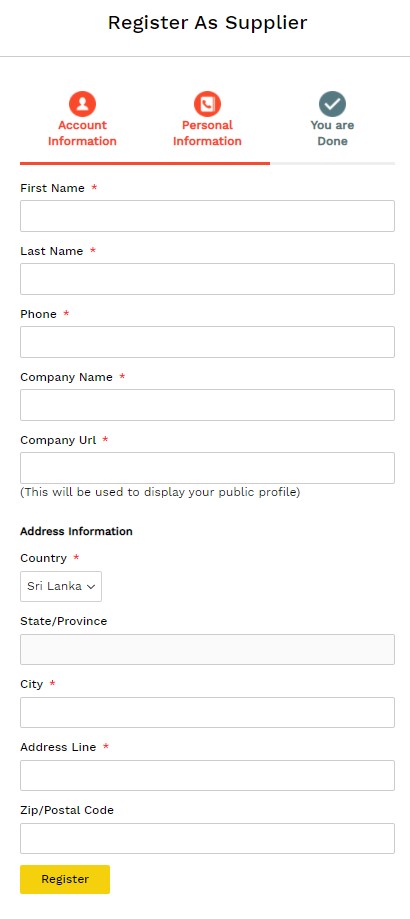 CONTACT INFORMATION
Enter your contact details and Company Name.
COMPANY URL
This is your Stockpile Site Url – This will be the direct link on Stockpile for your company. Use your company name without legal terms like (pvt), Ltd., LLC, etc., replacing spaces with dash (-).
In the following example, the link to the seller's profile page will be
http://stockpile.lk/bluewire-electrical-systems

ADDRESS INFORMATION
Enter your company's operating address details. If you have a secondary operational address, it can be added later through the Supplier Dashboard.
Once you have successfully submitted your request, you will receive an email from support@stockpile.lk to
Verify Your Account
. Completing this step will help us in the first step of verifying your identity. Thereafter, one of our representatives will contact you to gather more information required for the verifciation process.
SUPPLIER ONBOARDING QUESTIONNAIRE
In order to expedite the on-boarding process, please complete the
Supplier Onboarding Questionnaire
available
here
.